Experimenting with Adriafil Self-Stripers
Why the Adriafil Yarns?
Adriafil has always been a favourite in our little shop. They seem to have a knack for getting their yarn right, every time. Always high quality, decently priced and easy to work with, it knits up into some beautiful garments. With that in mind, we decided to try out the two recent releases of self-striping yarns.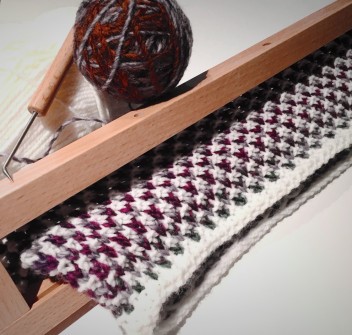 ~ Colour: 064 – Multicolour Fancy ~
The Zebrino range is a fantastic Aran weight yarn. It is 53% Wool/47% Acrylic so is a sturdy, but still soft, yarn. It has a regular pattern that alternates between bright, bold colours as well as a melange grey and can knit up beautifully into sweaters and other garments with ease.
We decided to spice the design up a bit, trying to bring a third option to the mix.
Carly began by selecting the Multicolour Fancy (064) colour option (because who doesn't love a rainbow!?) and paired this with some leftover Aran weight in cream we had lying around. Being relatively new to the knitting scene, and with her new All-In-One loom in tow, she decided to try a moss stitch, alternating between the two balls, unsure of what effect this would actually produce, but running with it anyway. It was hard to tell, at first, if the colours were as bold when paired with such a flat, solid colour, but by the time she had knitted a few of the colours though, she was beginning to feel a lot more confident. The effect of the white forming small stars in the final piece was also an unexpected touch, but one we were all pleased with.

A few evenings in front of the TV later, and we had a beautiful cowl, completed with the rainbow and stars.
Overall, the yarn was fantastic to work with. There was minimal splitting from the Zebrino and the regularity of the stripes meant that the final piece was beautifully balanced and could be worn with just about anything! We ended up adding the addition of a polar fleece lining to help prevent the inside stitches from catching on jewellery and to add an extra layer of insulation. This did reduce the ability of the garment to stretch, but given the stitch that was used, there was only a small amount of stretch, to begin with.

You can find our available colour range of Zebrino here.
Mistero Chunky Weight Yarn
~ Colour 53: Glade ~
| | |
| --- | --- |
| The Mistero range is a chunky yarn with the same composition as Zebrino, so it is just as soft and snuggly! The colours in this were full of ocean tones that reminded Carly of the photos she grew up seeing of the Great Barrier Reef in Australia. With this in mind, we settled on the contrast colour being a turquoise blue and went from there, using the same pattern as before. | |
Carly found that this yarn, being a heavier weight to the Zebrino, was not as easy to use on her loom, and needed more stitches per row to make an equivalent sized piece. It is still just as snuggly and warm, however, and the colour combination is as ocean like as predicted! Keep a lookout for it in the samples range instore soon!
You can find our available colour range of Mistero here