Clever connections are... well, clever. So I figured it would be clever to make a fantastical 16th century French Hood using one of the French General fabric collections. My chosen collection: Jardin de Versailles.
While not exactly period accurate in terms of materials, the pattern (that my mother very generously let me borrow) is as true as can be found, to my knowledge. The internal structure of my version here is constucted from extra heavy sew-in interlining with copper wire sewn along the edges. After that, a layer of wadding on the outside not only protects the fabric from rubbing against the wire, but also gives a little bit of dimention to the final result (I used polyester, but others would work well too). Then comes the fun of covering and decorating! I just had to remember to sew on the back of the crescent after decorating it, and the lining second to last, so as not to go through it when attaching the cresent that is so iconic of the historical fashion. Finally, attach the veil at the back, and voila! The whole project is complete.
... That makes it sound sew simple... (See what I did there?)
Truth is that this project was time consuming and fiddly, so I wouldn't recommend it to a beginner. However, it was a wonderful hand-sewing challenge and certainly a rewarding experience - and I'm really proud of the end result.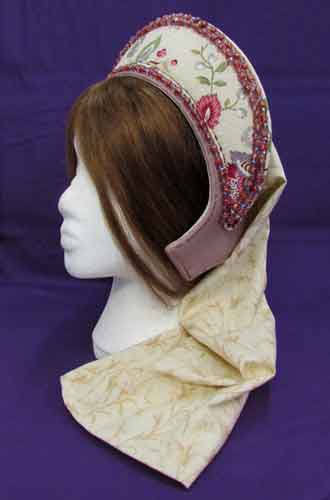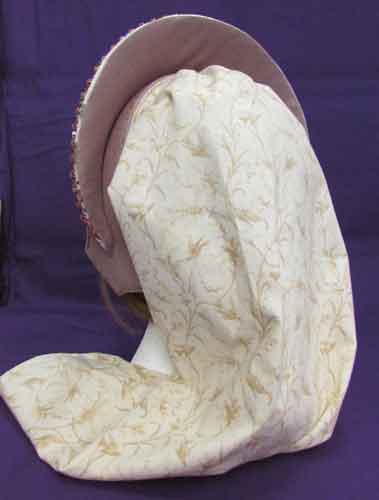 The creams and purples of Jardin de Versailles make for a beautifully light-coloured piece of headwear compared to my black one at home. Glittery red and gold beads really make the red and pink floral designs on the cresent pop, with the facetted purple beads catching the light in an extra sparkly fashion. Perhaps the most subtle work is the Coloris stranded cotton thread sewn around the edges; providing a solid but colourful line on what is otherwise a soft and plain edge.
Why not come into the shop and see for yourself?